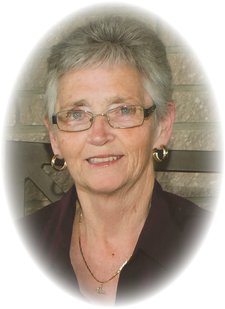 LAPIER, Helen Marie – Age 65, of Oil Springs, passed away on Tuesday, February 19, 2013 at St. Joseph's Hospice, Sarnia. Beloved wife of Joseph LaPier. Loving mother of Margaret (Patrick) Uhlman of Brigden and Jo Ann (Kevin) Coulter of Alvinston. Cherished grandmother of Mitchell, Bridon, Jamie, Travis and Caitlin. Survived by her step-father Ernest Hunt, brothers and sisters Ken (Barb) Taylor, Marjorie (Doug) Fournie, Charlie (Elaine) Taylor, John Taylor, Richard Taylor, Barb Ogorek and several nieces and nephews. Predeceased by her parents Alice Taylor-Hunt and Earl Taylor. A special thanks to Father Tony, Deacon Rudy, Elizabeth and John McKegan, Diane Lachante, the Cancer Drivers and staff at St. Joseph's Hospice.
VISITATION
Family and friends will be received at STEADMAN BROTHERS FUNERAL CHAPELS, Brigden on Thursday, February 21, 2013 from 6:00 to 9:00pm. Prayers will be offered at 8:45pm.
FUNERAL MASS
Funeral Mass will be celebrated on Friday, February 22, 2013 at St. Phillips Catholic Church, 415 King Street, Petrolia at 11:00am. Father Tony Del Ciancio officiating. Interment in St. Joseph's Catholic Cemetery, Corunna.
DONATIONS
Sympathy may be expressed through donations to the Canadian Cancer Society or St. Joseph's Hospice.