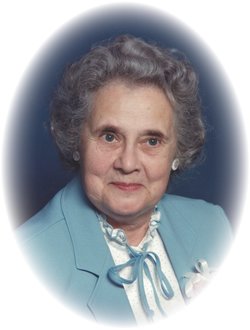 SMITH, Doris M. – It is with great sadness and heavy hearts that we mourn the passing of Doris Smith, age 95, of Lambton Meadowview Villa, Petrolia, formerly of Oil City, on Monday, February 18, 2013 at Bluewater Health – C.E.E. Site, Petrolia. Beloved wife of the late Amos Waldorf Smith (2003). Loving mother of James and his wife Jean Collins-Smith of New Sarepta, Alberta. Dear sister of Gertrude (Burnard) Attwater, Mary Kahler. Dear sister-in-law of Joyce Trott, Mary Gosnell and brother-in-law Harry Attwater. Predeceased by her parents Herbert and Flora (McDougald) Trott, sister Ellen Pegg, brother Robert Trott and brothers-in-law Norm Pegg, Charles Burnard and Marvin Kahler. Doris was a former member of Oil City United Church, Oil City United Church Women and Rosedale United Church, member of St. Paul's United Church, Petrolia, Eastern Star, Brigden, Honorary Member for 74 years in the Canadian Teachers Confederation and Life Long member of Central Enniskillen Women's Institute.
VISITATION / FUNERAL SERVICE
Family and friends will be received at STEADMAN BROTHERS FUNERAL CHAPELS, Brigden on Wednesday, February 20, 2013 from 7:00 to 9:00pm and Thursday, February 21, 2013 from 1:00pm until the service time at 2:00pm. Interment to follow in Bear Creek Cemetery. Rev. Pat Milliken officiating.
DONATIONS
Sympathy may be expressed through donations to C.E.E. Hospital Foundation.