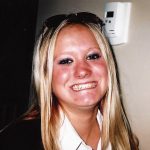 ATKIN, Caitlin Patricia – December 15th, 1985 – April 14th, 2017. Suddenly at the age of 31 years. Caitlin was the only daughter of Bill and Sue Atkin of Sarnia and sister to Mike Atkin (Elizabeth) of Petrolia. She is survived by her daughters Izzabelle and Laila. She was granddaughter to the late Duffy Atkin and to Joseph and Patricia Colborne and is survived by her grandmother Marjorie Atkin of Sarnia. Caitlin was predeceased by her Uncle Tom Atkin, but is survived by aunts and uncles: Mary Rivers (Steve) of Sarnia, Rob Colborne (Diana) of Surrey B.C., Steve Colborne (Alvinston), Mary Ann Colborne (Sarnia), Anne Turner (London) , Mike Colborne (Joyce) of Calgary, Alberta and Sarah Reaume (Walt) of Sarnia. She will be missed by her cousins Scott Atkin (Angelina), Melissa O'Mahony (John), Randy Rivers, Jodie Campbell (Jamie), Ellen Rivers (Kristen), Jason Colborne (Kristy), Brian Colborne (Sabrina), Janet Truer (Ian), Darcy Colborne, Christopher Colborne (Zuzana), Jennifer Wright (Jeff), Jake Reaume (Tessa) and Luke Reaume (Sara). Caitlin was predeceased by her cousin Jessica Reaume. Caitlin was a child of the earth. The daughter and granddaughter of farmers, she was a lover of the outdoors, passionate about animals of every kind, an accomplished equestrian and an avid dog lover. Now, there among the sun and the stars, she is finally at peace. "Death leaves a heartache no one can heal. Love leaves a memory, no one can steal."
VISITATION
Family and friends will be received at STEADMAN BROTHERS FUNERAL HOME, Brigden on Wednesday, April 19 from 6:00 to 9:00 pm.
FUNERAL SERVICE
Funeral Service will be held on Thursday, April 20 at 11:00 am from the funeral home. Interment to follow at St. Joseph's Catholic Cemetery, Corunna.
DONATIONS
Sympathy may be expressed through donations to Sarnia Humane Society.