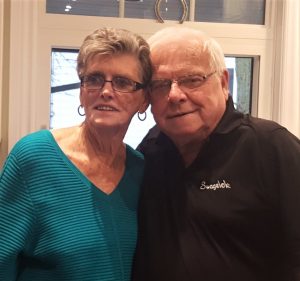 Di passed away on Saturday, October 17th at her home with her loving family by her side. Di was predeceased by her beloved husband Mike of 63 years. Survived by her sons Mike (Pam), Pat (Donna), Douglas (Cindy), Dennis (Sandy), Tony (Cyndi) and Todd (Liz). Also survived by her sisters Donna, Debbie and brothers Jim and Bud. Predeceased by sisters Doreen, Sue, Kelly and brother Len. Di was a loving and proud grandmother to Mike (Leah), Nikki (Bryan), Kris (Sarah), Breyden (Michelle), Hannah, Cody, Brittney, Kelsey (Joel), Brandy (Derek), Curtis, Brock, Shawna, Jamie, Justine and her cherished great grandchildren Michael, Hailey, Tyler, Nolan, Danton, Dylan, Miller, Levi, Nolan, Myles, Blakelyn and Bobby. Di loved spending time with her family, being on the farm and gardening. Di and Mike had many memorable travels in their motor home going to the east and west coast in Canada and many trips down south. Di had a great sense of humour and wanted everyone to never stop doing the things they enjoyed for any reason! Mike and Di are back together farming and planting their seeds in heaven on their new adventure. Many thanks to Bayshore Nursing, LINH and Dr. Butler .
Funeral Details
Cremation has taken place and a private family celebration of life will take place at a later date.
Donations
Sympathy may be expressed through donations to Canadian Cancer Society (www.cancer.ca).