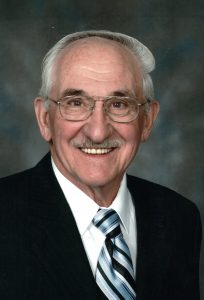 Hypolitus Petrus Bogaert, a resident of Brigden, passed away peacefully at his home on February 12, 2021, at the age of 90. Paul was born in Lamswaarde, The Netherlands on March 25, 1930. He immigrated to Ontario in 1951. Wallaceburg was his home until he met Joan and moved to Brigden where they raised their family. Paul had quite the entrepreneurial spirit most known for Van Communications, and farming with family. He prided himself in his large garden big enough to feed the town of Brigden, visitors did not leave without a basket of produce. One of his biggest passions was travelling; after each trip he was already planning the next. All of his passions can be seen and will be carried on through his children, grandchildren and generations to come. He will be deeply missed by his family and friends. Beloved husband and best friend of Joan for 65 years. Loving father of Michael (Sucely), Kenneth (1970), Christopher (Shelley), Mary (Robert) Smith, Lisa (1994) (John) Butler and daughter-in-law Judy Bogaert. Sadly missed by his grandchildren Terra (Nolan) Wallace, April (Adam) Brown, Bryan (Mary Beth) Bogaert, Kandace (Robert) Stark, Korrie (John) Whitney, Craig Bogaert, Amanda (Derek) Mathews, Ashley (Steven) Smith-Bolyantu, Eddie Butler, Sebastian, Eden, Holiday, Chance, Michael and Kenneth Bogaert. He will be missed by 12 great grandchildren and 1 great great grandchild. Paul's family: Ludovicus (Regina), Gysbertus (Florentina), Josephus, Richard (Berendina), Cyril, Maria (Aloysius VanEsbroeck), Anna (Omere Burm), Theodore (Irene), Ernest (Johanna), Achiel (Edith). Brother-in-law of the late Joseph and Paula Burm, the late Constant and Dianne Burm, Jean and George Van Damme, the late Marjorie and Henry Laevens, Doreen and John Bogaart.
Funeral Details
Due to provincial Covid-19 restrictions there will be no visitation or services at STEADMAN BROTHERS FUNERAL HOME, BRIGDEN. A private family Mass will be held at St. Philips Catholic Church, Petrolia. Interment will take place at Bear Creek cemetery.
Donations
Sympathy may be expressed through donation to Parkinson's Canada donate.parkinson.ca (send cheque to funeral home) or charity of choice.