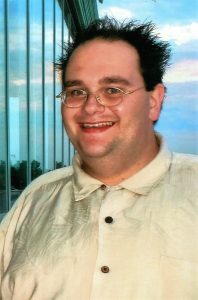 COLVIN, Shawn Douglas – Passed away peacefully October 10th, 2018 in his 39th year, at Chatham-Kent Hospital. Born December 3rd, 1978. Beloved son of Larry Douglas Colvin (deceased 1985) and Elizabeth Diane Smart (Young). Grandson of the late Gordon and Eileen Young and Don and Velma Colvin. Survived by Ansel Smart (step-father), Tony and Tina Smart (step siblings). Favorite aunt Susan Mitchell (Young), Special aunt Laura McLeod (Young) and numerous aunts, uncles and cousins from both the Young and Colvin families. Shawn's special interests include swimming, bingo with his mom, cooking and baking his specialty cheesecake, visits with his "sister-cousins" and his love of cats especially his baby "freeze" (what a name for a cat).
Funeral Details
A Private Family graveside will take place at Blackwell cemetery at a later date.
Donations
Sympathy may be expressed through donations to Chatham-Kent PAW Rescue.