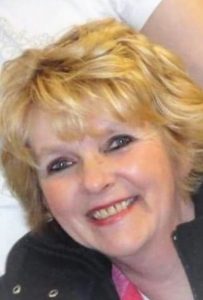 DROUILLARD, Brenda Lee Anne
On May 25th, Brenda Lee Anne Drouillard (MacDonald) passed away surrounded by the love of her husband, children, and family at 67 years old. After a courageous battle with cancer, Brenda is reunited with her beloved and deeply missed, youngest child, Danielle Mezzatesta (Drouillard), stepson Christopher Drouillard, and her parents Jack and Lena MacDonald. Brenda was the cherished best friend and wife of Glen Drouillard for 37 years. Together, they raised their children Heather Benicasa, Brandy McKinlay (Dave), Paul Drouillard (Kent), Erin Proulx (Gaston), and Scott Drouillard (Richard- best of friends), in a home filled with love, laughter and affection, setting the example for their children of what true love and commitment is. Brenda is survived and will be greatly missed by her siblings, Terry Clarke (Randy), John MacDonald (Theresa), Jackie Lacey (Doug) and Dianna Donkers (James) as well as her nieces and nephews who she fed, loved, and treated as if they were her own. Brenda was predeceased by her mother and father in-law, Raymond and Antoinette Drouillard and sister in-law Jan Perron (Mark). Loving sister-in-law of Ron Drouillard (Shirley), Sandy Stubbs, Debbie Hickling (Mike), Dean Drouillard and Kim Rogers (Dave). Spoiled with love, affection and her amazing baking were Brenda's 12 grandchildren Haylie and Kody Benincasa, Madison and Taylor McKinlay, Erika, Ella, Elijah, and Rhys Proulx, Ava Drouillard, Iain Thompson-Mezzatesta and his brothers, Isaac, and Elliot Mezzatesta. Also grieving the loss of their best friend for over 40 years is Doug and Janine MacDonald who together with the Drouillard's raised their children to be the next generation of long-standing friendship. Brenda was the heart of a very large, loud, and close immediate and extended family built on laughter and love. Family was everything to Brenda and to know her was to be a part of her family. She created "family" wherever she was– be it Paradise Valley campground where she spent so many summers at or the Southwest Credit Union where she worked throughout her banking career. Brenda created family out of friends and those friendships lasted a lifetime. Even if it was the first time you walked into her house you felt at home and you never left without a full heart and an even fuller stomach. Her house was often the center of family gatherings but in truth, wherever she was, she was the one who made you feel "at home" and part of her family. They say home is where the heart is, and Brenda was surely the "heart" of our family and so many wonderful friendships. The family would also like to extend our most heartfelt gratitude to Nicole Dawdy, who as a living organ donor, gave us much needed extra time with Brenda. We will forever be grateful for that selfless gift.
Funeral Details
Due to COVID-19 restrictions, a celebration of life will occur at a later time when we can all gather for a Kitchen Party and honour her life the way she lived it- with the joy, love, and laughter of family and friends.
Donations
Sympathy may be expressed through donations to The Princess Margaret Cancer Foundation. https://thepmcf.ca/ (Cheques mailed to funeral home please).