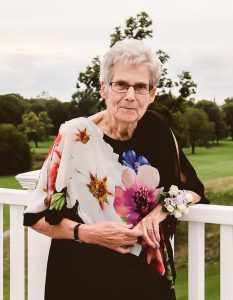 FIDDICK
Maxine Ruby (DODGE) Ducharme
Passed away peacefully on March 24, 2022 at Fiddick's Nursing Home, Petrolia
Born January 26th 1930 to Lawson and Daisy Dodge. Beloved Wife of John Ducharme (London). Beloved Mother of Mike & Leza Fiddick, Surrogate Mother of Wendy & Ben Sitek and Todd & Darla Fiddick. Devoted Grandmother to Marchan, Johnathan & Zack Fiddick, Mitchel & Corrine Fiddick, Zachary & Colin Wallis & Great Grandmother of many.
Dear Sister of Bill Dodge. Predeceased by Siblings, Betty, Hank, Florence, Jim, Almer, Dorothy, Morley & Gerry.
Maxine Fiddick was a force to be reckoned with, her greatest aspiration in life was that of caring for people. All People. Maxine's compassion & empathy were her greatest attributes; mix that with a brilliant mind, incredible business savvy, ceaseless energy and an overwhelming desire to help community, that was Maxine Fiddick.
In 1968 Maxine began the legacy of providing care to thousands of people. Maxine's motto from the very beginning was to "treat every resident at Fiddicks Nursing and Retirement Home, as if they were your most beloved family member." Maxine loved her family, her residents and her devoted team.
Maxine was not an easy boss, her standards were high and she demanded the very best from her team, especially from her son Mike, who worked hand in hand with Maxine for more then 35 years.
Traditions were important to Maxine. Her nurses wore white uniform and cap. Cleanliness was beyond militant, all food was homemade and of the finest ingredients. Nothing was not too good for her people. Pie or cookies must be served with a scoop of ice cream and bread must be buttered from crust to crust.
Maxine was a trailblazer, with a vision of future. Maxine brought that vision to her several terms sitting on The Petrolia Town Council and as a Board Member of The District Health Council. Maxine was a member of The Royal Canadian Legion and a member of the Order of the Eastern Star. A supporter of numerous projects toward the betterment of community and local charities.
Maxine was a savvy card player, occasional gambler, incredible with trivia and rarely cheated. Maxine loved to laugh, had an incredible sense of humour and could certainly play to a crowd. Maxine was a fine cook and a skilled gardener, she loved her flowers. Purple ones especially. She had the most generous heart and at every parting she would say,
"REMEMBER I LOVE YOU!"
So we will. We will remember and we are better for having known and loved such an extraordinary women.
Thank you to Maxine's devoted & loving family at Fiddicks Nursing and Retirement Home, who cared for Maxine in her final years. Your devotion and love was shown and felt everyday of her care. She would have been so proud of you all. Special thank you, to Dr. Daniel & the Bluewater Health Team.
Funeral Service
A private funeral took place at STEADMAN BROTHERS FUNERAL HOME, Brigden.
Donations
In lieu of flowers, we ask in the spirit of Maxine Fiddicks heart of giving, donations be made to THE INN OF THE GOOD SHEPHERD. "That a warm meal will be shared and communion be felt." Or to the Alzheimer's Society-Sarnia Lambton.