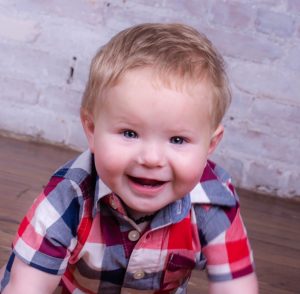 Eric Dean Elliott
May 31, 2021 – August 28, 2022
It is with immensely broken hearts that the family of Eric Elliott announce his sudden passing due to a tragic accident on Sunday, August 28, 2022. Eric was born the sweetest little peanut weighing 5 pounds, 7 ounces on May 31, 2021 to Amanda (Shuter) & Ryan Elliott. Eric was a beautiful boy and was an absolute delight to be around. He was always the happiest boy, so curious and always full of so much energy. His sweet chubby cheeks, and vibrant facial expressions were all just a glimpse into his dazzling personality. He adored playing with his siblings and friends as well as sneaking in his favourite show Blues Clues. Eric will be tremendously missed by his Mom and Dad, big sister Avaya and big brother Owen. Cherished by his Grandparents Dave and Deb Craig, Scott and Tammy Elliott as well as Great Gramma Jean Elliott. Sadly missed by his aunts and uncles Brian (Alison), Dayna (Glynn), Josh (Hana) and Jake. Dear cousin of Olivia, Elsie, Brock, Akil and Fatima. Special mention to Great Uncle Dean (Jenn) and to his honorary grandparents Cecil and Vera Bydeley as well as Diane Hughes. He will be missed by his giant cuddle puppy Marvin and the cats Mavis, Judy and Hank. Eric is Predeceased by his grandpa Robert Shuter (2003).
Eric, mommy and daddy are forever blessed and honoured that you were ours. You had a beautiful happy life that you lived to your fullest. Mommy and daddy are forever grateful and changed. We will always honour your little legacy and cherish you until we see you again and come home to you. We miss and love you so much little buddy, words could never describe our emptiness. It's not goodbye, we will see you again sweet boy.
Amanda and Ryan would like to extend their sincere thanks to the Petrolia-Lambton OPP and Chatham-Kent EMS for their efforts, as well as the staff at Four Counties Hospital, Newbury.
Family and friends will be received at STEADMAN BROTHERS FUNERAL CHAPELS, Brigden on Thursday, September 1, 2022 from 7 to 9 pm.
A private family service will be held with interment to follow at Shetland Cemetery.
Sympathy may be expressed through donations to Sick Kids (www.sickkidsfoundation.com).