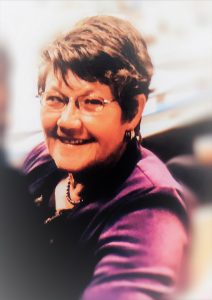 GRIGG, Judith– Age 74, of Wilkesport, passed away on Monday, July 19, 2021 at St. Joseph's Hospice, Sarnia. Beloved wife and best friend of Lorne. Loving mother of Lyle (Joyce) MacLachlan and Len (Brandie) MacLachlan. Special grandmother of Brody and Clayton MacLachlan. Dear sister of Mary McGregor, Robert McAllister, Sharon LaPier and Deborah Sawyer. Predeceased by parents Clayton and Margaret McGregor, Fran and Harvey Partridge. Survived by her mother Sarah McGregor, cousins, nieces, nephews and many friends. Judy loved to get her hands dirty on her family farm that she grew up on (Sombraclay Farms). She enjoyed gardening, fishing and had a special love for animals that was evident in her gentle approach, and many photographs. She was especially fond of horses and was an accomplished rider. Motorcycle trips with Lorne, particularly to the East Coast, were memories she spoke of often. She was a member of Canadian Motorcycle Cruisers (CMC), 4H member and mentor, and was a past president of the Brigden Fair Grounds. Judy will be truly missed by all who knew her.
Funeral Details
A private graveside service will take place at a later date at Black Creek Cemetery.
Donations
Sympathy may be expressed through donations to Black Creek Cemetery or St. Joseph's Hospice Sarnia-Lambton. www.stjosephshospice.ca (cheques mailed to funeral home).