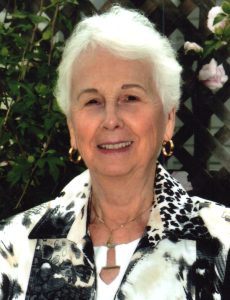 Born January 5, 1930 Gertrude died peacefully at Bear Creek Terrace (formerly Fiddicks) on September 19, 2023 in her 93rd year. Gertrude was the loving mother of Shelley (Allan) Vansteenkiste of Sarnia, mother-in-law of Lola Dudley, Petrolia and step-mother of Jim (Ellen) Johnson, Inwood and Robert Vera Brasjen) Johnson, Alvinston. Gertrude was predeceased by her son Barry Dudley (2012), her step daughter Kathryn Whiting (2023), her husband Burton Johnson (2007) and husband Jack Dudley (1962). Gertrude was a loving Grandmother to Stephanie Dudley, Jackie (Ryan) Sanderson, Alexandra (Jamie) Mitchell, David ((Rachel) Whiting, Heather (Bill) McMahon, Jason (Melisa) Johnson, Jeffery Johnson, Andrew (Emily) Johnson, Katie Johnson, Bradley Vansteenkiste and Selena Vansteenkiste. Gertrude was a special GG to seventeen and she loved her many nieces and nephews. Gertrude was predeceased by her parents Frank & Loren Arnold, brother Ross (Donna) Arnold, sisters Geraldine (Jack) Phair and Melba Dudley, her in-laws Lyle & Jenny Johnson, George and Mildred Dudley, sisters-in-law Mary (Bruce) Chapman, Georgina (John) Dobie, Melba (Dick) Singleton and brother-in-law Vaughn Dudley.
Funeral Details
Arrangements have been entrusted to Steadman Brothers Funeral Chapel, Brigden. At Gertrude's request there will be no visitation. A private internment at Alvinston Cemetery will take place at a later date.
Donations
Donations in memory of Gertrude may be made to a Charity of your choice.