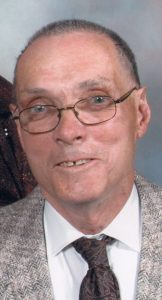 KERSEY, Grant – Age 81 of Oil Springs passed away on June 11, 2019 at Fiddicks Nursing Home, Petrolia. Beloved Husband of Donna Kersey for 62 years. Loving Father of Don (Karen) Kersey and Kelly (David) Ogilvie. Grandfather to Riley Ogilvie and the late Collin Ogilvie. Missed by his siblings Leroy (Celina) Kersey, Carlyle (Joan) Kersey, Dennis (Ana) Kersey and Denise (Jack) McIntyre. Predeceased by parents Cora and Henry Little and Freeman and Iona Kersey and siblings Walter Kersey, Olive McMurphy, Catherine Ashton and Blanche Butler. Grant was raised in Dawn Township by his Uncle and Aunt, Henry and Cora Little. He always kept in touch with his Father and Mother, Freeman and Iona Kersey and all of his siblings. Grant was a volunteer for Oil Springs Fire department for over 40 years, enjoyed 26 years of owning and working at Kersey Market Grocery store in Oil Springs and volunteered at Enterprise Petrolia for 15 years.
Funeral Details
Funeral service will be held on Saturday, June 22, 2019 at 3 pm at Oil Springs Centenary United Church with a visitation 1 hour prior of the service.
Donations
Sympathy may be expressed through donations to Oil Springs Centenary United Church, C.E.E.H Foundation or Alzheimer's Society .