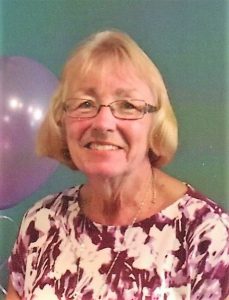 LANGSTAFF, Alice Marie (Harris) – Age 70, passed away at St. Josephs Hospice, Sarnia, May 26th, 2018, after a courageous battle, which she approached the same way she lived her life, with patience, kindness, grace and love for her family and care-givers, Alice has gone to heaven. Born in Dawn Township, September 9, 1947. Daughter of the late John "Jack" Harris (1969), and Annie Alice (Dawson) (1985). Beloved wife and best friend of Brian Lloyd Langstaff for 51 years.  Loving and blessed mother of Ken and Tami Langstaff, Carla and Doug Campbell, Debbie and Allan Scott, who all live within 5 miles of the Langstaff Farm.  Cherished Grandma to Samuel Langstaff, Allison and Emily Campbell, and Travis and Addison Scott, who were all the light of her life. Also survived by her loving sister and Brother-in-law, Joanne and Glenn McKinnon of Bracebridge Ontario.  Predeceased by brother Clifford (1987), and Sister-in-law Mary Harris (1994).   Also survived by Sisters-in-law Dorothy MacDonald and Marie Plank and Brother-in-law Bruce Langstaff, and several nieces and nephews. Alice was involved with several activities in her church and Women's Institute, but her true love was her Faith, Family, Friends, and Farming.  She also canvassed several years for the Canadian Cancer
Society, and enjoyed quilting with the Zion ladies group.
Visitation
Family and friends will be received at STEADMAN BROTHERS FUNERAL HOME, Brigden on Sunday, May 27, 2018 from 2-4 and 7-9pm.
Funeral Service
Funeral service will be held on Monday, May 28, 2018 at 11:00 am at the Zion Free Methodist Church, 2951 Bentpath Line, Sombra. Interment to follow at Shetland Cemetery.
Donations
Sympathy may be expressed through donations to St. Joseph's Hospice or Zion Free Methodist Church.