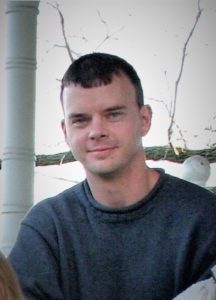 LEAPER, Clare Russell – Age 49 of London, passed away Monday, December 9, 2019 at London Health Sciences – Victoria Campus after a 6 month battle with cancer. Dear son of Gord and Barb (Keith) Leaper. Loved brother of Beth Leaper, Bob and his wife Cathy (Park) Leaper. Cherished uncle of Daniel and Anna. Nephew to Donna (Leaper) Longley and Lorne. Survived by many cousins and friends. Clare attended LCCVI, Western University for his BA, Wilfred Laurier for honours in History then to London Teachers College. He taught for 14 years in the secondary school for the Thames Valley District School Board and worked for Canada Trust. He was an avid history buff, loved reading, cats, Led Zeppelin and David Bowie. He enjoyed playing football, darts, fishing with his buddies and loved Wortley Village, London.
Visitation
Family and friends will be received at STEADMAN BROTHERS FUNERAL HOME, Brigden on Saturday, December 14, 2019 from 2-5 pm. Cremation has taken place.
Funeral Details
A private family burial will be held at Bear Creek Cemetery.
Donations
Sympathy may be expressed through donations to Canadian Cancer Society or Humane Society London & Middlesex for cats (www.hslm.ca).