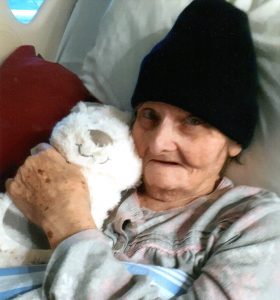 Marjorie Jean (Fournie) McLaughlin at the age of 86 passed away from complications, after a very hard battle with dementia. Beloved wife of the late John James McLaughlin. Beloved daughter and daughter in law to the late Eldon and Jean Fournie, and the late John and Pearl McLaughlin. The beloved mother of Jean (Richard) Hopwood, June (Norm) Ewing, Richard (Annette) McLaughlin, Kenneth McLaughlin, the late Terry McLaughlin, the late Gary McLaughlin, Perry (Brenda) McLaughlin, Bruce (The late Carol) McLaughlin, Lynn Saunders (the late Joe Caron and the late Adam Jacques), Julie (the late Alfred Johnson) Redman. Loving grandmother and great grandmother to many. Loving sister and sister in law to, June (the late Don) Rankin, Joyce (the late Ralph Harriet), Muriel (William) Whale, Doreen (the late William) McKeegan, Sharon (Alf) Branton, Lois (Delbert) Lorenze, Ethel (the late Roy) Will, Loraine (the late William) Wilson, and Beverly (the late Charles "Bud") McLaughlin. Along with several nieces and nephews. Mom will be missed by Callie Ann and Ginger Johnson that kept her smiling on bad days. Mom was a member of the Alzheimer Club in Wallaceburg, and also was a member of the New Beginnings Club in Chatham, in which she enjoyed the time with friends and making memories and brought her much joy. A very deep and heartfelt thank you to all the staff at the Chatham-Kent Hospice in keeping our moms dignity, smiles and compassion for her, also for all the wonderful care at our home to allow her to be where she loved. A special thank you to Dr. Hall, and the PSW nursing staff, friends and family for showing up and helping at a moment's notice and showing her the compassion and dignity she so very much deserved. There is no amount of words that could ever be said on the support mom received. Mom so loved the care she received, mom touched so many people throughout her life and if you were lucky enough to have known her you were so much better for it. Mom (Marjorie) is and will always be the strongest women I know, you will forever be loved and missed.
Funeral Details
Family and friends will be received at STEADMAN BROTHERS FUNERAL HOME, Brigden on Wednesday, October 24, 2018 from 2-4 and 7-9pm. A private family graveside service will be held at a later date.
Donations
Sympathy may be expressed through donations to Chatham-Kent Hospice, Heart and Stroke Foundation, Alzheimer Society and Canadian Crime Victim Foundation.