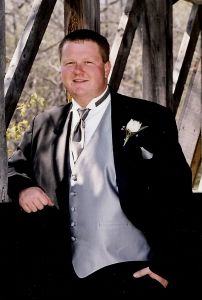 MILLS, Jeremy James Albert – age 31, of Brigden, passed away suddenly on Wednesday, December 15, 2010. Beloved husband of Hanneke Mills. Loving father of Jarod and Katie. Dear son of Murray Darrell and Glenda Mills, mother Karen Ann Parsons. Brother to Jason Darrell Mills. Grandson of Patricia and late Murray (2010) Carson Mills and Logan and Catherine Shaw. Great-grandson of Amelia Struck. Special grandson to Bruce and Muriel McCallum. Son-in-law to Wim and Therese Kouwenberg. Brother-in-law to Chad and Mariette Kouwenberg-Mooney, Ryan Pearson and Iotje Kouwenberg. Uncle to Mikaela Pearson and Maёlle Mooney. Nephew to Harvey and Kris Mills, Brenda and Paul O'Mara, Brenda and Jim Gerber, Scott Tomlinson, Erin and James McHattie. Jeremy had a love for farming and enjoyed spending time with his children. He will be sadly missed.
VISITATION
Family and friends will be received at STEADMAN BROTHERS FUNERAL HOME, Brigden on Sunday, December 19, 2010 from 1:00 to 5:00pm.
FUNERAL SERVICE
Funeral service will be held on Monday, December 20, 2010 at 11:00am from the funeral home. Rev. Harvey Osborne will be officiating. Interment in Bear Creek Cemetery.
DONATIONS
Sympathy may be expressed through donations to a trust fund for Jeremy and Hanneke 's children