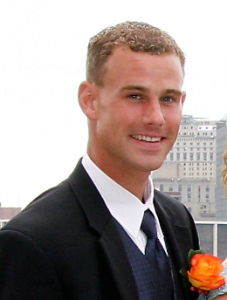 It's hard to say good-bye to our beloved Ted who was an amazing son, grandson, brother, uncle, nephew, cousin and friend. We remember his kindness, sense of humour, generosity and intelligence.  As a child he was very active in many recreational sports including hockey, skiing and baseball. He was a talented athlete and played high school football and tennis. Following high school, Ted attended the University of Western Ontario and graduated in 2001 with a Bachelor of Arts degree in Sociology.
After graduating, Ted worked and travelled for a year in Australia and spent time in England. Ted had a love of the outdoors, and electronic music. He could always be counted on to lend a helping hand with yard work and household projects. Ted was always very good at working with his hands and he went on to become an entrepreneur. He ran a successful landscaping business in the Windsor area for a number of years until he suffered a life altering back injury.
Despite having so much going for him, Ted faced a number of struggles. He fought a very difficult battle against addiction and won. We were very proud of him. Unfortunately, he continued to struggle with serious mental and physical health problems and, in the end, this battle proved to be too much for him.
Ted will be deeply missed and forever remembered by his loving family and friends. If love alone could have saved Ted, he'd be with us today.