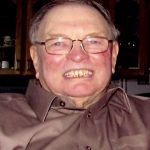 PATTERSON, James "Raymond" Neil – Born in Brooke Township on May 28, 1929. Raymond passed away with dignity and grace on Thursday, October 27, 2016 at St. Joseph's Hospice, Sarnia. Beloved husband of W. Jean Patterson (nee Wilson) for 65 years. Loving father of Tim and Kim Patterson of Corunna, Lee and Janice Patterson of Inwood, Mary and Andy Steadman of Brigden, Lori and Laurence Roy of St. Clements. Cherished grandfather of Michael Patterson, Steven and Carrie Patterson, Jennifer and Tobias Rae, Neil Patterson, Erica Steadman and Chad Carruthers, Mark and Jessica Steadman, Erin Steadman, Stephanie Roy and Aran Bismayer, Carolyn Roy and Erik Polzin, Michelle and Kyle Dechert, Chris Patterson and step-grandfather of Amber and Julie Mclachlan. Honoured great-grandfather of Ella, Casey, Ryan, Allie, Lukas and Mason. Survived by in-laws Cecil and Lois Wilson, Eva and Phil Walters, Jean Wilson, Greta Wilson, Blanche Wilson. Also survived by many nieces and nephews. Predeceased by his uncle Foster and aunt Christy Patterson who loved and raised him as their own with their family Neil and Jean Patterson, Jim and Ruth Patterson, Myles and Jean Patterson, Wray and Ruth Patterson, Grace and Bert Lightfoot, Donna and Rae Armstrong. Also predeceased by his parents Isaac and Jessie Patterson (nee McLean), brother Maurice Patterson, mother and father-in-law Aaron and Mina Wilson, and in-laws Norm Wilson, Marge and Wallie Esselment, Stan and Marion Wilson, Roy Wilson, Neil and Ellen Wilson, Alec Wilson, Donald Wilson and Peter Schieman.
VISITATION
Family and friends will be received at STEADMAN BROTHERS FUNERAL HOME, Brigden on Sunday, October 30, 2016 from 1:00 to 5:00pm.
FUNERAL SERVICE
Funeral service will be held on Monday, October 31, 2016 at 11:00am from the funeral home. Interment to follow at Alvinston Cemetery.
DONATIONS
In lieu of flowers, sympathy may be expressed through donations to Hope United Church, Alvinston or St. Joseph's Hospice, Sarnia.