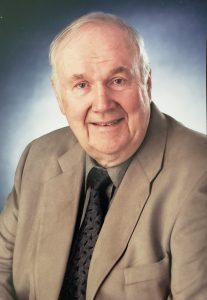 James Alexander (Alex) Pettit
Peacefully, surrounded by loved ones, at Marshall Gowland Manor on October 27, 2022 at the age of 90. Beloved husband of the late Bernice Carol Pettit.  Alex grew up in Corunna and attended SCITS high school in Sarnia. He worked as a computer programmer and systems analyst for many years at Diamond Crystal Salt in St. Clair Michigan, and finished his career as a realtor with William Cox Realty in Sarnia. After retirement, Alex and Bernice spent time entertaining their grandchildren, enjoying their lakefront home in Bright's Grove and daytripping in their crew cab truck that Alex loved. "After retirement" is a bit of a stretch because Alex never stopped looking for new business ideas: he was right that both Crocs and SkipTheDishes would succeed, but Fukkenwax and The Peddlin' Grandpa never really took off. Alex would talk to anyone. He was a natural and funny storyteller and an eternal optimist ‐‐ he will be dearly missed.   Father of Steve (Helen) and Chris (Beckkie). Grandfather of Chelsee‐Marie (William) Burke, Kierstynn (Jon Martinez), Ashleigh (Journee Joseph) and Ted Godolphin Pettit. Brother of Claude (Anne), the late Suzanne (Mike) McKitterick, Derek (Janet) and Wendy (Norm) Vent. Also survived by many nieces and nephews.
Visitation
Family and friends will be received at Steadman Brothers Funeral Home in Brigden on Wednesday, November 2nd from 6pm – 8pm.
Funeral Service
A funeral service will be held at Steadman Brothers on Thursday, November 3rd at 1:30pm.
Donations
Sympathy may be expressed through donations to Marshall Gowland Manor Tribute Program www.lambtoncares.ca/donate/support-us/