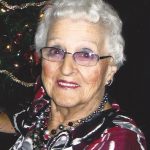 PHAIR, Vera Geraldine "Jerry" – Passed away peacefully on November 19, 2016 in her 94th year at Bluewater Health – C.E.E. Site, Petrolia. Jerry was born May 29, 1922 to the late Frank and Loreen (nee Boothe) Arnold. Predeceased by her husband Jack (1983) and twin brother Ross and his wife Donna. Survived by her daughter Penny Miller and her husband Doug. Lovingly missed by her sisters Melba Dudley and Gertrude Johnson, special nephew Lorry Tigner who was part of our "farm family" for many years. Also survived by sisters-in-law Marion Phair, Jean Houston, Joy McGaffey, Betty McBrayne and her husband Jim, Leona Phair, Mary Phair and several nieces and nephews. Jerry was a life-long resident of St. Clair (formerly Moore) Township. She was a member of Bear Creek Presbyterian Church until its closure in 1987. Jerry then became a member of New Life Assembly, Petrolia. She was a life member of Birkhall Women's Institute and Bear Creek W.M.S. A special thanks to Dr. Li and Staff, the nurses at C.E.E., home support workers Candy and Kelly. And special thanks to neighbours Percy and Lois, Ian and Laurie. Mom and our family couldn't have managed without you.
VISITATION / SERVICE DETAILS
Family and friends will be received at STEADMAN BROTHERS FUNERAL HOME, Brigden on Saturday, November 26, 2016 from 10:00 am until the funeral service at 11:00 am.
DONATIONS
Sympathy may be expressed through donation to C.E.E. Hospital Foundation or New Life Assembly (Missions).