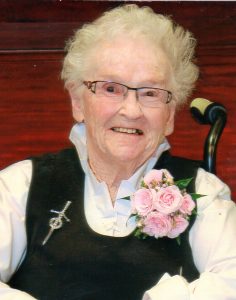 Bertha Mae Shaw
March 03, 1925 – June 24, 2022
Bertha was the daughter of Francis and Lottie Shaw of Kimball, Ontario. She had three siblings, Leslie Shaw, J.R. Shaw and Dolly MacDonald. She lived most of her life in Mississauga, Ontario before moving to Corunna, Ontario in 2003 where she lived out the rest of her days. As she had wished, Bertha died peacefully in her sleep in her own home. She was 97 years old. Bertha was a loving mother to Karen Atkinson, Barbara LeFeuvre and her husband Don, and Robert Atkinson and his wife Sharon. She also loved her grandchildren Kerry, Wayne, John, Amanda, Carolyn and Laura, and her great-grandchildren Gavyn, Paxtynn, Ryan, Sebastian, Hudson and Skylar. Bertha was a woman of faith, which sustained her through numerous health issues including a stroke at birth, and mobility challenges in her later years. She was an active member and generous benefactor of the Community of Christ throughout her life. For Bertha, life was all about family. That included her extended family: her brothers and sister and their spouses, her nieces and nephews and their spouses, and her great-nieces and great-nephews. She looked forward with great anticipation to any event which could bring the whole family together. She was particularly interested in the lives of her children and grandchildren; where they were living, how they were doing, and what they were planning for the future. She provided incredible support to each of them without ever interfering in their lives. She shared her wisdom freely, but only if you asked for it. Bertha was an amazing mother, grandmother, great grandmother, aunt and great aunt. Though she is gone, our cherished memories of beautiful times spent with her will last forever.
Funeral Details
A Celebration of Life/Informal Visitation will be held on Thursday, July 28, 2022 from 11am to 1pm at STEADMAN BROTHERS FUNERAL HOME, BRIGDEN- 3040 Brigden Road, Brigden Ontario N0N 1B0. A graveside service will follow at Moore Union Cemetery – 171 Moore Line, Mooretown, Ontario N0N 1M0.
Donations
Sympathy may be expressed through donations to St. Joseph's Hospice (stjosephshospice.ca). Memories and condolences may be sent online at www.steadmanbrothers.ca. Arrangements entrusted to STEADMAN BROTHERS FUNERAL CHAPELS, Brigden 519-864-1193.