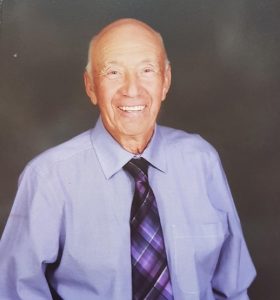 SUTHERLAND, Reginald "Wayne" – Age 77 of Sarnia, passed away peacefully with family by his side, at Bluewater Health, Petrolia, on Thursday, March 12, 2020. Pre-deceased by wife Susan Sutherland, son-in-law, Todd O'Brien, first wife Patricia Massie (nee Huff), and parents Reginald and Josephine Sutherland. Cherished father of Lisa O'Brien, Cynthia Herr (David), and Jeff Sutherland. Stepfather to Noelle Leslie (Jim Hendrickx), Wendi Croteau (Brendan Scott), and Christy Heath (Tim). Loving grandfather to Jordan McMurphy (Celeste), Travis McMurphy (Celine Bruggeman), Peyton and Daniella Herr, and Ethan, Quinn and Monica Sutherland. Great-grandfather to Emma and Parker McMurphy. He will also be missed by step-grandchildren Taylor, Kody, McKinnley, Riley and Paige. Wayne is survived by his brother, Ron Sutherland (Ruth), and will be greatly missed by Randy Shortt (Dianne), and Robb Huff (Carol). Wayne will also be remembered fondly by many nieces and nephews. Wayne was a pipefitter for forty years with Polysar/Bayer refinery, and proudly served Oil Springs on the village council, and as a volunteer firefighter. He took pride in his years as a softball coach, and as a member of both Oil Springs and Petrolia United Churches.
Visitation
Family and friends will be received at STEADMAN BROTHERS FUNERAL HOME, Brigden, on Monday, March 16, 2020 from 4:00 to 7:00 pm.
Funeral Details
A funeral service will be held on Tuesday, March 17, 2020 at 11:00 am with Rev. Bryan Baxter officiating. Interment to follow at Hillsdale Memorial Cemetery, Petrolia.
Donations
Sympathy may be expressed through donations to the Oil Springs United Church or the Oil Springs Fire Department.
**COVID-19 Update for Steadman Brothers Funeral Chapels:
If you have travelled recently or have been in contact with someone who has, we recommend you do not attend any visitation or service at the funeral home in the near future. If you are attending a visitation or service we recommend limited contact with others and to please use our hand sanitizer regularly. Also, our website (www.steadmanbrothers.ca) is a great way to pass your condolences along to the family. Thank you for your understanding.**