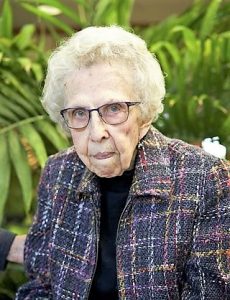 Alice Isabelle Thompson (nee Baxter), born in Sarnia, was the much loved daughter of Ida (nee Harkness) and Bert Baxter and sister of the late Helen (Baxter) Cousins of Port Huron, Michigan. Alice was married to her beloved husband, the late William (Bill) Thompson, originally of Brigden, Ontario. Alice died peacefully, after a long happy life, in her 96th year at her care facility in Guelph Ontario. Alice was a devoted mother to her children Anne (Wayne) Wright of Guelph, Kris (wife of the late Bruce Thompson) of Minneapolis, and John (Judy) Thompson of Mooretown. She was proud of her grandchildren which include Eric (Molly) Wright and Lauren (Raffi) Vartanian all of Guelph, Brian (Lindsay) Thompson and Kevin (Kim) Thompson all of Minneapolis, and Stephen (Kristin) Thompson, Kirsten (Mitch) Thompson and Garrett (Sarah) Thompson all of Mooretown. Her much loved great grandchildren are Levi and Zachary Wright and Margot Vartanian, of Guelph. Her nieces are Barb (Cousins) and Dan Busen of Port Huron, Michigan and Carol (Cousins) and Ken Pilarowski of Sierra Vista, Arizona.
Funeral Service
A Celebration of her Life will be held at St Andrew's Presbyterian Church in Mooretown, Ontario, on Saturday, January 27, 2018 at 1 pm. Family will greet friends and relatives 1 hour prior to the service. Friends and family are invited to a luncheon following the funeral service.
Donations
Donations in her memory may be made to St Andrew's Presbyterian Church Mooretown.