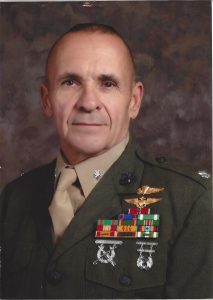 Lt. Col. Robert A Yaskovic, (USMC) beloved husband, soulmate, and best friend of Maureen (nee White) died on February 28, 2017 at home. "Yazz" was born April 16, 1943 to Andrew and Jule Yaskovic of Yonkers, NY. Upon graduating from Charles E Gorton High School, he attended Texas A & M University receiving a BA in Business Management and a BS in Animal Husbandry. During a 2 year management position with Sears in Houston, Texas he was granted a 6 year leave of absence during Vietnam to become a pilot in the US Marine Corps. His love of flying led to a career of 25 years as a USMC Naval Aviator. During his military career he was an attack helicopter pilot, in Vietnam he also flew fixed wing, turbo props and jets. Accumulating over 8800 flight hours he felt very privileged to fly when jet and turboprops were maturing while reciprocal (gas) engines were phasing out, but still available. During his later years he was a VIP pilot flying congressmen, generals and honored to be a pilot, on a couple of occasions for 2 previous US presidents. He received numerous awards the highest being a Bronze Star with Combat V, Navy Achievement Medal, Navy Unit Commendation, Three Sea Service Deployment Ribbons, Two National Defense Service Medals, Two Air Medals, 27 Strike Flight Air Medals, Two Meritorious Unit Commendations, Republic of Vietnam Campaign Medal, Republic of Vietnam Meritorious Unit Citation and Two Vietnam Service Medals. Upon retiring in 1991 he flew DC-9's commercially for just under a year. Finding that life style unchallenging, he and Maureen, originally from Petrolia, bought two farms in Brigden/Petrolia area in 1992, and in 2009 opened the Howladay Inn Pet Resort. Bob is survived by his wife Maureen, and children Robert Jr. (Robin) and Carey of Florida, Tracy (Justin) of Georgia and Paul of North Carolina. Two grandsons, Mason and Carter of Florida. Sister Janet and brother Ron both of New York. Predeceased by his parents Andrew (1989), Jule (2014) and brother Joseph (2007).Sincere thanks to Dr. Enoch Daniel, staff of C.E.E and V.O.N for all their years of care and compassion.
Visitation
will be held at the STEADMAN BROTHERS FUNERAL HOME, Brigden on Sunday March 5, 2017 from 2to4pm and 7to9pm.
A funeral service
will be held at the STEADMAN BROTHERS FUNERAL HOME, Brigden on Monday, March 6, 2017 at 1:00 pm with a 1 hour prior visitation. Interment to follow at Zion Cemetery, Mooretown.
Donation
Charitable donations can be made to C.E.E Hospital Foundation.