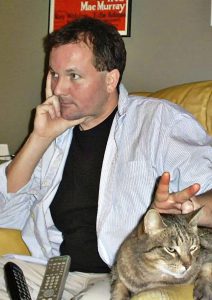 James Bullbrook, 56, died in the Critical Care Trauma Centre at Victoria Hospital on January 26 at 4:48 a.m. Proud father of Richie Bullbrook, dear brother of Julie Hislop (Rob) and Jane Bullbrook, and loving uncle to many nieces. Predeceased by parents Joyce (Dooling) and James Edward Bullbrook and brother John Bullbrook. Growing up in Sarnia, James' father was the Liberal MPP from 1967-1977. The Ontario Liberal Party was in his DNA which led to him work for the Ontario Liberal Party in Opposition. James was a gifted writer, raconteur, football fan and film and architecture buff – as anyone on the receiving end of one of his epic lectures on Star Wars or Star Trek could tell you. His real passion was politics – and specifically, public service. That passion eventually brought him back to the Liberal Party as a speechwriter for Former Premier of Ontario Dalton McGuinty. After his second stint at Queen's Park, James returned to London to spend more time with his son, Richie – a phenomenal skateboarder and the joy of his life. He eventually began working with Lloyd Rang Communications, which reunited him in his day-to-day work with so many of his good friends from his time in government. James was a skilled and talented storyteller. He had a sharp wit. He was fiercely intelligent and loved the craft of writing, and talking about writing. James believed deeply in serving others. He could be cantankerous – and he knew it – but beneath that veneer, he was a caring, humble, dedicated and loving man. James coined a phrase that has become common at his workplace: "In our world, authenticity is the coin of the realm." The family would like to thank the physicians, nurses and PSWs who provided exceptional care for James both in hospital and at home, as well as his care co-ordinator Jennifer DeJong. James often expressed how deeply grateful he was for their support. Cremation has taken place.
Memorial Service
A memorial service will be held at Highland Country Club, 1922 Highland Heights, London, on Saturday, February 12, 2022 at 2:00 p.m. In accordance with provincial laws, those wishing to attend the service must be fully vaccinated and must RSVP at: https://signup.com/go/kuZCKYW.
Zoom
A livestream of the service starting at 2pm will be available on Zoom: https://us06web.zoom.us/j/83229818509.
Donations
In lieu of flowers, memorial donations may be made to the LHSC Foundation (lhsf.ca) or St. Elizabeth Foundation (sehc.com). Please mail cheques to funeral home or donate online at the charity websites.