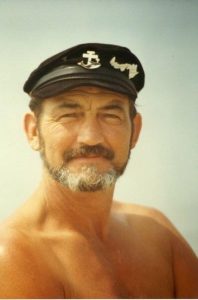 COLE, Robert John – Bob passed away June 17, 2022, 1 day before his 67th wedding anniversary.  Husband of Betty Cole, Father of son Mark Cole and daughter Judy Cole. Four grand-children and seven great-grand children knew him as "Bobby". Bob and Betty spent 53 years on the 10th line on a 10 acre hobby farm. A tightly knit community shared a million laughs and equal number of caring moments. Bob's fascination with steam engines, machinery, and various modes of transportation led him to be able to work in areas he was passionate about. He was employed by CSX railroad during the transition from steam to diesel locomotives. His career as truck driver allowed him to see many parts of Canada and the USA.  His love of flight set him up as a ultra-lite pilot trainee. Motorcycles provided a great number of summer travel memories for him and Betty. Tractors and farm machinery were another favourite of his to work on.  Bobby chose to fix many things that others might ask "why".  He was not wasteful and was always curious as to how something worked.  Bobby was also a very talented artist.  Handcrafted, scaled down models of steam engines and planes were meticulously created and were blue and red ribbon winners at various local fall fairs. The family send their sincere gratitude to the following teams that helped Bobby over the years: Blue Water Health Dialysis & Rehab Team, Bayshore Team, Fiddicks Team, Albany Team and the Palliative Care Team who guided us through the MAID process.
Funeral Details
Cremation has taken place.  A Celebration of Life will take place at a later date.
Donations
Donations to Blue Water Health Palliative Care or Dialysis or Kidney Foundation.