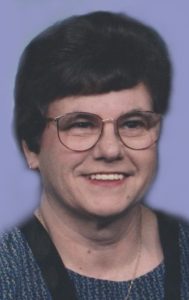 FADER, Miami (Nee Yacks) – With saddened hearts, the family of Miami Tresia Fader announces her passing on Thursday, December 01, 2022 at the age of 83. Born in Chatham-Kent on May 28, 1939 to parents Delina (Matte) and Willia m Yacks. She is now reunited with her husband of 62 years, John Fader (2020). Loving mother of daughter Cindy (Gary) Kramer and son Mark. Treasured grandmother to John Paul Kramer. Survived by her cherished sister Winnifred (Roger) Cadotte, sister-in-laws Carol Yacks and Sylvia Weaver. Predeceased by siblings George Yacks (Laura), Alice Alexander (Henry), Gladys Lozon (Gerald), Russell Yacks (infant), Cecil Yacks (Mabel), Stanley Yacks (Joyce), Jean Alexander (Victor), William Yacks (Clara), Theodore Yacks (Gloria), Harvey Yacks (Margaret), Verna Chalcraft (Richard), Sally Yacks (infant), Morris Yacks (Christine), Allen Yacks (Marilyn), and Victor Yacks. Miami will be missed by her numerous nieces and nephews and many friends and neighbours. Because of Miami's cheerful and sunny disposition, her name truly matched her personality.  Miami was kind hearted, welcoming, and the ultimate support individual. She was always taking care of others, both children and adults. Miami's optimism and determination gave her the courage to overcome many serious health issues. Miami loved being with people, laughing, telling stories, playing the piano, singing, cooking, knitting, crocheting, quilting and watching game shows. Miami volunteered for many years with the Moore Agricultural Society Homecraft Division and the Brigden United Church Women. We would like to thank Dr. Justin Mall of the Central Family Health Team for his outstanding dedication to Miami's care. We are also grateful for the efforts of Dr. Evan Lilly and the palliative teams at Bluewater Health and the St. Joseph's Hospice.Due to the circumstances in 2020, a memorial service for John could not be held.
Funeral Details
Friends and family are invited to attend a joint memorial service at the Brigden Fairgrounds on Saturday, December 10, 2022 at 1pm. A celebration of life for Miami and John will start after the service and end around 4pm. A private family graveside interment will take place at a later date.
Donations
In lieu of flowers sympathy may be expressed through donations to St. Joseph's Hospice www.stjosephshospice.ca, C.E.E Hospital Foundation https://ceehf.ca or a charity of your choice (cheques mailed to the Funeral Home).