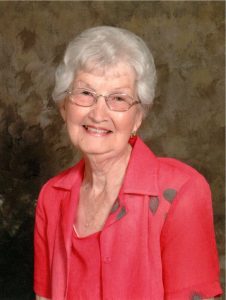 GRAY, Margaret Elizabeth – Margaret died peacefully at St. Joseph's Hospice, Sarnia on December 2, 2019 at the age of 92. She was the dearly loved mother of Connie and Ross Ptolemy, grandmother of Kevin Ptolemy (Nancy) and Jeremy Meehan and great grandmother of Evan, Jake and Sara Elizabeth Meehan. She was the dear sister of Helen Vandevenne, Dorothy Pettit and Judy Grant, and is survived by many nieces and nephews. Margaret was predeceased by her husband of 63 years Howard Melvin Gray, her dearly loved granddaughter Robin Elizabeth (Ptolemy) Meehan, and sister Ethel May. She was also predeceased by her brothers in law Alex Gray, Romaine Vandevenne, Francis Pettit and Dick Grant, and by her sisters in law Mina Finch, Iris Dunn and Margaret Crawford. Margaret was born in Sombra Township to Gordon and Marie Fournie. She met the love of her life Howard at one of the many dances held in the Sombra and Moore area. Margaret and Howard were active members of Calvary United Church and later Brigden United Church. Church and community life were important to Margaret and she lived her faith. She was a volunteer at Mooretown School and with Lambton Elderly Outreach. One of her clients who became a special friend was Stuart James a local man who was a renowned magician and shared many interesting stories with her. Margaret had many interests and enjoyed golf, travelling, reading, quilting, and gardening. She even learned to swim at the age of 65. Margaret was a kind and gentle soul who did not like the spot light, but in her own quiet way let her light shine.
Visitation
Family and friends will be received at STEADMAN BROTHERS FUNERAL HOME, BRIGDEN on Saturday, December 7, 2019 from 4-7pm.
Funeral Details
A private family graveside will take place at a later date.
Donations
Sympathy may be expressed through donations to St. Joseph's Hospice or Canadian Cancer Society.