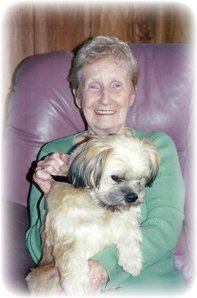 HAIGHT, Norma Lorraine (Bouchard) – passed peacefully at C.E.E. Site, Continuing Care, Petrolia, surrounded by her family on Sunday, March 18, 2012. Born in Montreal, Quebec, May 22, 1931, to Paul and Anne Bouchard. Norma was a remarkable woman; smart, creative and compassionate…living her life for her family. She amazed and inspired others with her strength and determination. Norma was ahead of her time, bringing the first Health Club to Petrolia, operating a Dairy Goat Farm as well as being highly active in the Figure Skating Club, driving school bus, woodworking and renovating. With grace and dignity she led by example, teaching her 6 children and grandchildren to share, give, forgive and love each other. She taught her boys to cook and her girls to sharpen knives. She was always the director of good times. Predeceased by her loving husband Francis William Haight and beloved brothers Reginald and Roland Bouchard. Loved and deeply missed by Debbie and Ross Pettigrew, Francis and Lorie Haight, Sandra and John Mercer, Tim Haight and Lori Elphick, Jennifer and Dave Topley and Kenneth Haight. Grandchildren; Derek, Ryan, Dana, Francis, Matt, Anita, D'Arcy, Sonny, Alex, Isaac, Christopher, Karra, Tim, Chad, Jesse, Max, Dylan, Minia and great grandchildren Kiren, Mackenzie, Cayden, Myka, Gabe, Nora, Leah, Jackson and faithful sidekick "Bandit".
MEMORIAL SERVICE
Cremation has taken place and a memorial service will be held Friday, March 23rd at 1:00pm at St. Philip's Catholic Church in Petrolia. Food and refreshments will follow immediately at Petrolia Lions Club.
DONATIONS
Sympathy may be expressed through donations to The C.E.E. Chronic Continuing Care Petrolia, the V.O.N., or The Limestone Learning Foundation (Tristin Osbourne fund) 220 Potsmouth Ave, PO Box 61, Kingston, Ontario, K7L 4X4 or www.limestone.on.ca.