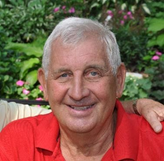 Robert John Marsh passed away peacefully at home July 27, 2021, at the age of 83.  Throughout his 18 year long cancer journey, he lived with courage and fierce determination maintaining a positive attitude and appreciation for life.
Bob graduated from the University of Guelph with a B.Sc in 1961 and completed a Masters in Education from Western Washington University in 1971. "Swampy" enjoyed being a teacher and was actively interested in every student.  He was known for his sense of humour and engaging students in science.  He retired after a 33 year career at Petrolia (LCCVI) high school.  In retirement, he was thrilled to run into former students and hear about their lives.
He lived and loved farming his whole life, including the community in which he was born and raised, and in which he raised his own family. He was a dedicated community member of the Sixth Line United Church, Mooretown Minor Hockey and Brigden Optimists.  An active sportsman, Bob enjoyed his hockey career and the camaraderie he had with his teammates on the Mooretown Old Pirates.  He spent thirty years enjoying cottage life on Stag Island where he appreciated the community spirit among friends and neighbours.  An enthusiastic and life-long singer (Marsh Mellows, church choir, Bluewater Chordsmen), he was constantly humming or singing a happy tune.
Bob and Jane enjoyed meeting new people, visiting family, school mates, friends and strangers alike.  Bob valued relationships and dedicated himself in maintaining contact with everyone. He was always ready to listen, learn new things or commit your family history to memory.  Bob always had a smile on his face and a joke on his lips. There was nothing Bob liked better than an interesting conversation with an old friend or complete stranger!
Bob will be missed greatly by his wife of 60 years: Mary Jane (O'Dell), and their 4 children and 9 grandchildren:  Paul/Shirley (Riley, Gillian), Dan/Elaine (Natalie, Ethan, Sophie), Andrew/Tammy (Cameron, Griffin, Avery) and Jennifer/Daniel (Sam).  Predeceased by his parents John and Nettie (Alderman) and siblings Calvin, Carol Alton (Bruce) and Marilynn Petherick (Edgar).
Bob's children and grandchildren were the pride and joy of his life. The legacy of Bob's kindness, sense of humour and generous spirit will live on through them.  He will be missed by many nieces, nephews, cousins, neighbours and friends.  His life was well lived and he is an example others use for his strength of character, humour, kindness and for living well through happy and difficult times. He will be missed.
Many thanks to Dr. Yoshida and oncology staff for their years of care, to Melissa Miller and the palliative health care team for their excellent support.
Due to current Covid-19 restrictions, a private family funeral service will be held at STEADMAN BROTHERS FUNERAL CHAPELS, Brigden followed by a private reception at the Brigden Fair Grounds. The funeral service will be streamed online on Sunday, August 1, 2021 at 2:00pm by clicking the link: https://us06web.zoom.us/j/83269239106. Zoom Meeting ID: 832 6923 9106.
Sympathy may be expressed through donations to Sixth Line United Church or Canadian Cancer Society (www.cancer.ca).