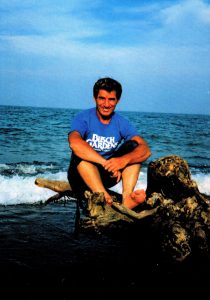 MILLER, Craig Stuart – Age 84 of Brigden, passed away peacefully on Wednesday, October 21st, 2020 at Bluewater Health, Sarnia. Beloved husband of Shirley May Miller (nee Wheeler). Loving father to Douglas (Andrea), Ian (Nina), Colin and Kevin (Stephanie). Cherished grandfather of Ian, Merryn, Ethan, Christina (Brian Bailey), Gage, Brooklyn and Evan. Dear brother-in-law of Sandra (Melvin) Broad, William (Sandra) Wheeler, John (Margaret) Wheeler and Shirley Grexton (Lance Sproule). Predeceased by his parents Gordon C. (1960) and Pearl Miller (1995), brother Bruce (2008) (Joyce, 2013) Miller, sister Janet (2008) (Ray, 1988) Towell, sister Gail (2016) (George, 2019) Moran.
Our dad was a great dad. Was he perfect? No. But he was fun, daring, humorous, caring, quietly loving, deeply intelligent, curious, loyal, painfully honest, stern, even scary, but always forgiving. We soon learned it was better to put the new car in the ditch than to leave the lights on. Downhill skiing for the first time, "who needs lessons?" Apparently not us! Gravity was our task master. He could fix anything, tear it apart, figure it out and invent a couple of new colourful words in the process. He would let us fall but never hit bottom. Setting up a 1970's canvas tent at night in the rain, "don't complain, this is good for us, hotels are soft." Time to buy a new couch, let's go visit every furniture store in southwestern Ontario. Bought a new "used" motorcycle, let's set up an obstacle course of hockey sticks and paint cans to learn how to drive it and then drive it halfway through a window into the basement when the throttle stuck, classic. Suffice to say our life with dad was never dull. He was genuinely interested in the lives of his nieces and nephews and their families. He loved to tell funny stories about his friends that put them in a positive light. He constantly missed his brother and sisters as only they could truly understand and laugh at their past exploits. A literate man that enjoyed writing poetry and with his wife, his love, they could dance like swans. A life well lived, a job well done, our dad was a great dad.
Due to Provincial COVID-19 restrictions, a private family service will be held at STEADMAN BROTHERS FUNERAL HOME, BRIGDEN. A private family graveside will take place at Riverside Cemetery, Sombra.
Sympathy may be expressed through donations to Heart and Stroke Foundation (www.heartandstroke.ca), St. Joseph's Hospice (www.stjosephshospice.ca), Canadian Cancer Society (www.cancer.ca), Kidney Foundation (www.kidney.ca).