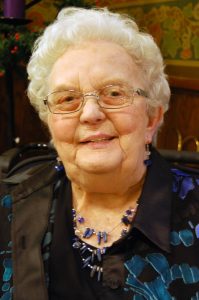 MURRAY, Olga (Neesom) – Formerly of Manchester, England passed away peacefully on Saturday, November 12, 2016 in her 90th year, with family at her side, at Lambton Meadowview Villa in Petrolia, Ontario. She was a British Milk Maid, he (Roy) was a Canadian soldier. That chance meeting at a bus stop during the war changed their lives forever. Olga moved to Canada in 1947 to join her husband Roy in New Brunswick. They soon made their way to Sarnia, Ontario and settled on Baird Street in Corunna. Roy built a house and they made it a home with their 6 children. You could hear the delight in her voice whenever she explained she had 6 children – 1 girl and 5 boys, 19 grandchildren and 31 great grandchildren. This sentence was often followed by, "and there isn't an ugly one in the bunch!". She will be missed by many, but especially by her daughter, Ellen (Dave) Mills of Oil Springs, Cliff (Penny) of Goderich, Doug (Carmelle) of Nova Scotia, Russ (Sonia) of Qatar, Dave of Sarnia, and Mel of Goderich. Her husband Roy, went home to heaven in 1995. Olga's sister Vera in England will miss her letters and phone calls from Canada. Besides, her children, Olga leaves behind 19 grandchildren: Jo-Anne, John, Connie, Janice; Heather, Siobhan; Carol Ann; Elizabeth, Jennifer, Angela, Martha, Nicole, Joshua, Josiah, Joel; Aaron, Aarika, Deidre, Andy, and 31 great grandchildren: Jesse, Liam, Abby, Josh, Kaelyn, Madison, Cody, Connor, Brock, Ruby, Kate, Evan, Nicolas, Abigail, Elijah, Elizabeth, Jenica, Christopher, Juliana, Hannah, Andrew, Johnathan, Victoria, Mathew, Breanna, Samara, Alyssa, Joson, Brielle, Alivia, Brooklyn, and many nieces and nephews. Her brothers, Clifford, died during the war and Arthur, passed away several years ago. She was also predeceased by her parents, Arthur (1972) and Martha Ellen (1978) (Franks) Neesom. Olga came to Canada as a young war bride. This new country was full of promise and adventure but was far from home. She met another war bride, Molly Cook, and they quickly became friends for life. What a wonderful legacy Olga (also known as Mum and Grammie) has left to all that have known and loved her.
VISITATION
Join us as we celebrate the life of Olga Murray at STEADMAN BROTHERS FUNERAL HOME, Brigden on Monday, November 14, 2016 from 2-4 pm and 7-9 pm.
FUNERAL SERVICE
Funeral service will be held Tuesday, November 15, 2016 at 1:00pm with visitation one hour prior to the funeral at STEADMAN BROTHERS FUNERAL HOME, Brigden. Pastor David Lane of Temple Baptist Church in Sarnia, officiating. Burial in Sutherland Cemetery, Courtright.
DONATIONS
Sympathy may be expressed through donations to Samaritan's Purse, World Vision, a local foodbank, or charity of your choice.