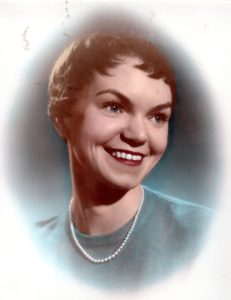 PARKER, Mary "Vivian" – Passed away peacefully on Monday, January 17, 2022, with her Girls by her side. Vivian was the beloved wife of the late Laurie Parker (2007) of Naples, Florida. Viv was the youngest daughter of William and Maggie (Ward) Archer. She grew up in Newbury Ontario, where she enjoyed school and learning, snitching chocolate from her Daddy's store, her horse Dimples and had a passion for music.  When Vivian graduated from Highschool, she went onto Beauty School in London to become a hairdresser and worked till she married. Although she could come across as shy, Viv had a fun-loving spirit with a great sense of humour, she laughed easily and was game to try anything. Until the end, Viv enjoyed any kind of music, although she no longer was able to dance, she could still tap her toe and hum along. She will be Sadly missed by her niece Sandi (Mike) Touma, Heather and Lauren Touma, Cousin Lynn (Jeff) Huey. Predeceased by her parents William Archer and Maggie (Ward) Archer her sister Phyllis (Archer) Johnston and her brother-in-law Joe. A special thank you to all the PSW's, nurses and staff at Lambton Meadowview Villa, Petrolia for taking special care of Vivian.
A private graveside service will be held at a later date.
Sympathy may be expressed through donations to Alzheimer Society (www.alzheimer.ca).