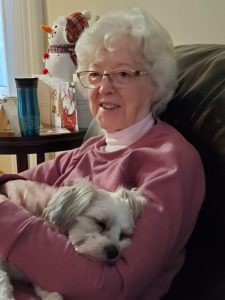 Leola Carol Smith (Rozee) former resident of Petrolia, ON, passed away at St Thomas Elgin General Hospital on Monday, November 28th, 2022, surrounded by family. Beloved wife of the late Roy L. J. Smith. Praying mother of Michael Smith (Joy); Linda Van Troost (Theodore); Patricia Kelly (Wesley); and Reginald Smith (Suzy). Proud grandmother of 17 grandchildren and 29 great-grandchildren, each one remembered in her prayers. Fondly remembered by many nieces and nephews. Carol was predeceased by siblings Gordon, Burton ('Ronald'), Eldon, and Lorna. Survived by Roberta and Charles. Loving daughter to the late Reginald and Carrie Rozee (Boutilier). Born in Halifax, Nova Scotia, on July 29, 1933, with a thimble and needle in hand, best known in the community and surrounding area for her passion for sewing. While others wore store-bought clothes, we wore her creations. Slipcovers and quilts came later, but her passion for bedspreads and drapes made her well known, for her workmanship was well sought after. We, her family, have fond memories of Bible story time and will be forever grateful for the godly values she taught us, and the importance of seeking after God. Mom looked forward to the hugs and the sweet sit-down visits from her grandchildren and great-grandchildren. She adored every photo sent and could be found searching for family photos on social media. She was a proud Nova Scotian and didn't mind being called a bluenoser. Yearly trips out east brought much excitement and produced a treasure trove of memories. The day of her passing was spent in reflection; tears of loss and laughter, remembering the treasured memories she left us with. In her own words, "I gave you some stories to tell." It is written in Ecclesiastes 3:1-2a, "To everything there is a season, a time for every purpose under heaven. A time to be born, and a time to die." Never take life for granted, and may love abound in our hearts toward one another in the good times and the hard time.
Funeral Details
Friends and family will be received at STEADMAN BROTHERS FUNERAL CHAPELS, Brigden on Saturday, December 03, 2022 from 10am to 12pm with the funeral service to follow.
Zoom
The funeral service is available to watch on Zoom starting at 12pm.
Please click the link below.
https://us06web.zoom.us/j/88436765646.
Donations
Sympathy may be expressed through donations to Freedom Village of Canada (Freedom Village of Canada – Helping Teens through Christ).