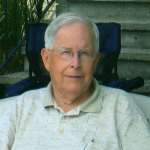 Captain James Sullivan passed away suddenly at his home in Sombra in his 96th  year on December 17, 2017. Jim was predeceased by his beloved wife, Betty and by his parents William and Evelyn (Dawson) Sullivan. Loving father of Alan (Guelph), Carol (Gary Smith, Montreal).  Cherished grandfather of Victoria of Toronto, Katharine of Guelph, Alexei of Montreal, Elena (Bruno) of Les Cedres and great-grandfather of Taylor.  Survived by his sister Mildred Manser of Sarnia and two nieces Margaret Manser and Mary Fuller.  Jim was a long time employee of Misener Transportation and rose through the ranks to become Captain on the Great Lakes, a position he held for 33 years. In the latter years of his career he was appointed as Commodore of the Fleet. He was a proud member of Sombra Masonic Lodge and was the recipient of the William Mercer Wilson award for Meritorious Service.
Visitation
Friends and family will be received at STEADMAN BROTHERS FUNERAL HOME, Brigden, on Wednesday, December 20, 2017 from 7:00-9:00pm.
Funeral Service
Funeral service will be held on Thursday, December 21, 2017 at 11:00am with visitation starting at 10:00am from the funeral home.
Donations
Sympathy may be expressed through donations to Charity of Choice.