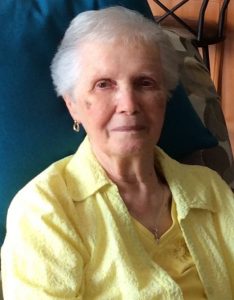 CAPES, Betty Jean – It is with profound sadness, but with deep gratitude for her life, that we announce the death of Jean Capes on Wednesday, January 9 at the age of 92 years. Jean was born on April 13, 1926 in Bickford, Ontario to Arthur and Marion (Neal) Brown.  She was a sister to Joyce.  She married Walter Capes (predeceased – 1996) on June 16, 1945.  She was the amazing Mom to Judy (predeceased – 2010), Betty (Sherry) of Pickering, Connie (George) of Corunna and Margaret (Kathryn) of St. Clair Township.  She was a much loved aunt to many and enjoyed the ties of friendship with many as well. Jean was a homemaker in the best sense of the word. She was the heart of her home and her family.  She enjoyed knitting, sewing, crocheting, quilting, cooking and baking.  She was happiest when her family was gathered around her. Jean was member of the Lambton County Rebekah Lodge and Calvary and Corunna United Churches and she was a life member of the United Church Women.  After many years on the farm, she enjoyed nearly 22 years as a resident at Thompson Gardens in Corunna. Special thanks to Mom's caregivers throughout the past 3 years but especially Michelle Benson, Tina Stewart, Lisa Labelle Voisey, Kaitlyn Rumohr, Melissa Miller and Chelsey Martin – our family could not have granted Mom's wish to be in her own home without your loving care throughout. Also, the endless support of Lisa Harris and Kim Dillon of Bayshore Home Health will be forever appreciated.
VISITATION
Family and friends will be received at STEADMAN BROTHERS FUNERAL HOME, Brigden, on Friday, January 11, 2019 from 5:00 – 8:00 p.m.
FUNERAL SERVICE
A Service to Celebrate Jean's Life will be held at Corunna United Church, 198 Hill Street, Corunna on Saturday, January 12 at 11:00 a.m. with Rev. Blair Corcoran officiating.  Reception to be held at Thompson Gardens, 198 Beckwith Street, Corunna following the service.  Burial at Sutherland Cemetery in St. Clair Township will be private.
DONATIONS
In lieu of flowers, donations will be gratefully received to Lambton Mental Wellness Centre, Canadian Cancer Society or St. Joseph's Hospice.