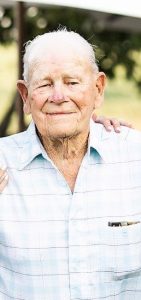 Richard "Dick" Peter Hunter – It's with great sadness that the family of Richard "Dick" Peter Hunter announce his passing on September 12, 2023. Dad had a full and enriching life. He may have lost his battle following his latest medical challenge, but he is winning all the way after entering heaven's gates and into the arms of his beloved wife, Bernice (Johnson) Hunter (1993). Dad, Grandpa and Great Papa will be greatly missed but his influence will live on in his six children and their families: Ron (Jayne), Dave (Joyce), Karen (Charlie) Zavitz, Dale (Cindy), Carol (Tom) Steadman and Mark (Linda) Hunter. He was the proud grandfather of Erin (Junior) Farrelly, Pam (Mike) Lowe, Meghan (Jill McFate) Hunter, Logan (Alicia) Hunter, Danny Zavitz, Greg (Michelle) Zavitz, Jennifer (Vic Jaswal) Zavitz, Ryan Zavitz, Dylan (Kristen) Hunter, Shalen (Kyle) Schweitzer, Tucker (Haley) Hunter, Rick (Maria) Steadman, Nicole (Matt) Strangway, Mike (Haley Saunders) Steadman, Adam (Dana) Steadman, Garett (Britney Podolinsky) Hunter, Cullen (Gabrielle) Hunter, Andie (Russell MacMillan) Hunter, Cale (Rachel) Hunter. He found great joy in his great-grandchildren: Graham Steadman, Maddox, Millar and Merrick Hunter, Gavin, Ronin, and Mila McGrath, Maxx and Rhett Lowe, Charlie and Ellie Zavitz, Declan, Harlow, and Leyton Hunter, Theo and Malcom Schweitzer, Braxton, Reece, and Rebecca Strangway, Isla (2019), Robbie and Lucy Steadman, Hugh and Henry Hunter, Hudson and Brooks Hunter, and two on the way, fall 2023. Dad is also survived by his loving companion, Joanne Dobbin and her family, in addition to his nieces, nephews and cousins. He will be missed by the many people he came to know through the farming community but especially throughout the hockey world. Dad was like a father to several and they will also miss him. He was also predeceased by his parents, Roy and Araminta "Mint" (Bailey) Hunter as well as his brothers, Don (late Irene) and Wayne (Barbara). Dad was a family man, farmer and a member of the local Carpenter's union. He was an original builder of the Petrolia Minor Hockey system in Petrolia. He was a hard-nosed but respected coach. He "networked" in hockey without knowing what the term meant. He spoke his own brand of rural English and he also spoke "hockey", 24-7. He was instrumental in the elite hockey development of his four sons but he also was very passionate about the development of all players he coached. "Hunter hockey" is well known across a multitude of households, hockey rinks and organizations. His love of the game helped fuel his sons to achieve elite hockey status, with all playing Major Jr A hockey and Dave, Dale and Mark playing in the NHL. He was proud supporter of the London Knights hockey club. Dad was excited to see his grandchildren, and now great grandchildren learning the game, and some venturing into the business. Despite his experiences in hockey and far-reaching impacts, Dad remained true to himself, a farmer at heart, living a simple life, in the humble home on the family farm where he and Mom raised our family. He was never interested in material things. He lived for the experiences with hockey and hockey people, in addition to the fruits of his labour on the farm. The family would like to thank London Health Sciences, especially, Dr Dieter Bruckschwaiger, Cheryl Churcher, Dr. Oonagh Scallan, and Dr. Daryl Gray for their excellent and compassionate care.
Funeral details
There will be a private family service. A Celebration of Life will take place at Brooke-Alvinston-Inwood Community Complex, Walnut Street, Alvinston, Ontario at 1:00 pm to 7:00 pm, Friday, September 15, 2023.
Donations
In lieu of flowers, donations (cheques only) may be made to Canadian Cancer Society (www.cancer.ca).