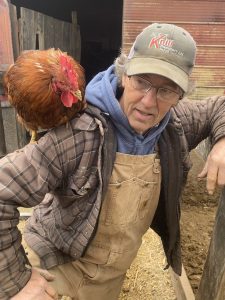 MacPHERSON, Gerald Bruce – age 63, of Mooretown. It is with profound sadness and shattered hearts family and friends are mourning the sudden and unexpected loss. Gerry is survived by his forever sidekick Carol and their children Jennifer (Bernie), Stephanie (Andy), Scott, Clark, Brock and predeceased by their youngest son Cole. As well as grandchildren Alani, Kingsley, Rocklyn, Mac and Coleridge; Asher and Kylo; Ariella; Grayson, Theodora and predeceased by granddaughter Tressa. Toby and Teddy are the luckiest pups that have had the privilege to join Gerry and Carol on their daily farm trips, travelling back and forth down Moore Line for their adventures through the fields to the bush. Born to Margaret and Bruce (deceased 2021) MacPherson on November 27th, 1959. Brother to siblings Jimmy, Robert (Laurie), Marianne (Mark), Lou and John (Jeri) as well as numerous nieces and nephews and great-nieces and great-nephews. From the very beginning Gerry spent his days on the farm, and he never left.  He was the most honourable farm hand to his father and mother. Gerry met Carol in 1978 and they were wed September 5th, 1981. Gerry had an extraordinary way with his cattle that can only be appreciated if you were fortunate enough to witness him working with them. He never hesitated to help a fellow farmer when they needed his skills with their own livestock or machinery. He was one call away for so many that needed him – whether it was a cow having difficulty calving, a tractor that would not start or cut hay that needed to be baled before the rain arrived. Gerry meant so many things to so many people. The morning meetings at Tim Horton's will not be the same without him.
Visitation
Family and friends will be received at STEADMAN BROTHERS FUNERAL CHAPELS, Brigden on Tuesday, March 21, 2023 from 1pm to 4pm.
Funeral Service
A funeral service will be held at STEADMAN BROTHERS FUNERAL CHAPEL, Brigden on Wednesday, March 22, 2023 at 11 am.
The funeral will be streamed live on Zoom by clicking the link: https://us06web.zoom.us/j/88129466059
Donations
Sympathy may be expressed through donations to Sarnia and District Humane Society www.sarniahumanesociety.com or Heart and Stroke Foundation www.heartandstroke.ca.