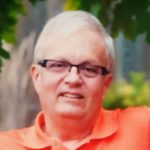 McCORMICK, Wayne – Of Brigden is with us in Spirit and Memories as of February 12, 2018. He, with the love of his wife Elsbeth, have raised three wonderful children, Heath, Ian and Blyth. Heath and Natalie McCormick, daughters Astrid and Hazel. Ian and Allison McCormick, daughters, Penelope, Savannah and Addison. Blyth and Jimmy McCallum, their daughter Lucy and son Harley. They will all miss him dearly. Wayne's sister Cheryl and husband Les Scott. Elsbeth's sister Cheryl and husband Bill Seele. Predeceased by Elsbeth's brother Marty in January 2018, who is survived by his wife Chris Thalgott. He will be fondly remembered by several nieces, nephews, cousins and close friends. He has always had a passion for horses, starting at an early age, on the farm of his mother and father, George and Edith McCormick. He trained thoroughbred race horses in Michigan, Pennsylvania and Kentucky. While residing in Brigden he enjoyed operating McCormick Insurance for over 40 years, which led to developing many friendships throughout the community. The family wishes to have a private remembrance at this time.
A "Remember Wayne" gathering, where family and friends may reflect on their time spent with Wayne, will be held on Saturday, February 17, 2018 from 1-4 pm at the Brigden Fair Grounds Exhibition Building.
In lieu of flowers, donations in memory of Wayne may be made to L.C.D.S. (Lambton County Developmental Services) at www.lcdspetrolia.ca.
Card of Thanks
The McCormick Family, McCormick Insurance, & Beaver Meadow Stables would like to express our sincere appreciation for the support shown this past week remembering and honouring the life of Wayne McCormick. He left us way too soon but his memory will live on forever.