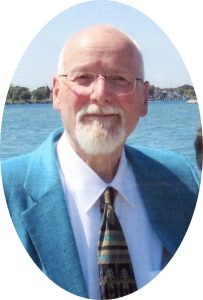 MOSHER, Eric Raymond – Age 78, of Petrolia, passed away peacefully on Thursday, March 3, 2022 at Bluewater Health, Sarnia. Born November 18, 1943 in Halifax, Nova Scotia, the son of Donald and Florence (Flemming) Mosher and brother of Elsie and Rosalie. While a young boy the family moved to Niagara Falls, Ontario. Eric will be remembered by his wife of 46 years, Gale (Lazaroff) Mosher, his sister-in-law and brother-in-law Vikki (Lazaroff) and John Zulpo, nephews Andrew and his wife Tarah, Adrian and great-nephews Declan and Atticus. Also remembered by his aunt and uncle of Chester Basin, Nova Scotia, Wayne and Alice (Flemming) Milner, aunt Jackie Colucci, many cousins by marriage and Eric and Gale's many friends. A special thank you to the Steadman family of Brigden, Ontario, who have helped us in so many ways over the past four years, when we made our move to Petrolia, Ontario. Eric started his working career as a draftsman for the Town of Oakville, then changing to the Ambulance Service in Oakville and then Woodbridge, Ontario. He moved into the office to become the supervisor then acting manager of the dispatch centre for the Ontario Air Ambulance Service. His last change was to become the contracts auditor and inspector for the Air Ambulance, flying around the province several times a year to examine heliports and more. Eric was a terrific handyman and was especially proud of a 24×36 foot garage he built at Horseshoe Lake near Parry Sound. He loved boating and fishing, his last boat being a 27 ft Wellcraft that allowed Eric and Gale to anchor in a peaceful cove for several days at a time on Georgian Bay. Our thanks to the Charlotte Eleanor Englehart Hospital in Petrolia and the ICU unit at Bluewater Health in Sarnia, who were so caring during Eric's last two days.
As per Eric's request, there will be no funeral service but a gathering of family and friends will be held at a later date.
Sympathy may be expressed through donations to the Heart & Stroke Foundation (www.heartandstroke.ca) or Diabetes Canada (www.diabetes.ca) or the charity of your choice.