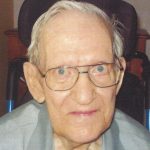 NAYLAR, Peter Richard Winsor – Age 87, formerly of Port Lambton, passed away peacefully at Chatham-Kent Hospice on September 10, 2016. Peter was born in London, England. Beloved husband of the late Christina Marian Naylar (2012).  He will be sadly missed by his sister June DeRooy.  Peter was a loving uncle to Evan and JoEllen, David and Karen DeRooy and families, Yvonne and Victor Lavoie and many nieces and nephews in England and Canada. Peter was the son of the late Richard William and Maude Alice (Sherratt) Naylar. Predeceased by his brother-in-law Bill DeRooy and John and sister-in-laws Rene, Grace and Edna.
VISITATION
Family and friends will be received at STEADMAN BROTHERS FUNERAL HOME, Brigden on Thursday, September 15, 2016 from 2-4 and 7-9pm.
MEMORIAL SERVICE
A memorial service will be conducted from the Funeral Home on Friday, September 16, 2016 at 11:00am.
DONATIONS
Sympathy may be expressed through donations to C.E.E. Hospital Foundation, Petrolia, Parkinson Society or charity of choice.