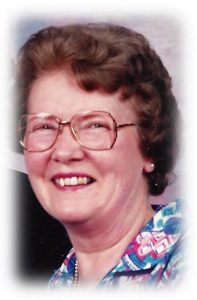 NEWMAN, Eileen Evelyn (nee McEwan) – Age 91 of Fiddicks Nursing Home and formerly of Brigden has left to go meet her best friend and lifelong companion Raymond "Dean" Newman (2013) on Friday, September 29, 2017. Survived by her 3 sons, Wayne (Patti) Newman, Dale (Vicki) Newman and Barry (Tammy) Newman and her grandchildren Ryan (Christine), Brad (Marylyn), Nick (Taylor), Shaun (Ashley), Katelyn (Connor), Jaelin and Scot and her great grandson Lincoln. Also survived by her brother Gordon (Betty) McEwan and sister-in-laws of Ona Campbell and Jean (Ross) Smith and many nieces and nephews. Predeceased by her loving husband Dean sisters Eunice Henderson, Geraldine Tancock and Donalda Patterson.
Lady Martha Rebekah Lodge #245 service will be held at 6:00 pm on Tuesday, October 3, 2017 at STEADMAN BROTHERS FUNERAL HOME.
Visitation
Family and friends will be received at STEADMAN BROTHERS FUNERAL HOME, Brigden on Tuesday, October 3, 2017 from 6-9 pm.
Funeral Service
Funeral service will be held on Wednesday, October 4, 2017 at 11:00am from the funeral home. Interment to follow at Bear Creek Cemetery.
Donations
Sympathy may be expressed through donations to Brigden United Church or C.E.E. Hospital Foundation.