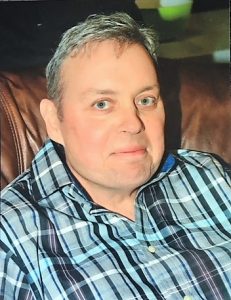 O'BRIEN, Todd William– It is with Shattered Hearts that we announce the passing of Todd O'Brien on Sunday, March 11, 2018 at Bluewater Health Palliative care, Sarnia, after a 14.5 month battle with cancer. He is lovingly survived by his wife Lisa (Sutherland/McMurphy). Todd was the only much loved son of Bill and Joyce O'Brien. He was the only sibling and fun loving brother to Stacey and Mike Moulton. Devoted father to Madyson O'Brien, loving and fun step dad to Travis (Sutherland/McMurphy) and Jordan and Celeste McMurphy. Kind and thoughtful son-in-law to Wayne Sutherland and sweet brother-in-law to Cynthia and Dave Herr and Jeff Sutherland. Devoted and very loving grandad to Emma and Parker. Fun and adventurous uncle to Kody and Jack Moulton, Peyton and Daniella Herr, and Ethan, Quinn and Monica Sutherland. Todd is also survived by many loving aunts, uncles, and cousins. Todd was the best friend and master ball thrower to Lola, and she went everywhere with him in the car. Todd was a union pipefitter and proud member of Local 663, where he was blessed with many true friends and workmates. Todd was also a licensed mechanic where his love of motors and loud machines was an obvious true lifelong passion.
Visitation
Family and friends will be received at STEADMAN BROTHERS FUNERAL HOME, Brigden on Thursday, March 15, 2018 from 2-4 pm and 6-8 pm.
Funeral Service Details
An Irish wake/Celebration of life will be held on Saturday, March 17, 2018 at 11:30 am at the Local 663 Union Hall, 1151 Confederation Street, Sarnia. The celebration will continue with food, drinks and music to honour Todd as he wanted to be remembered.
Donations
Sympathy may be expressed through donations to Noelle's Gift or The Sarnia and district Humane Society.