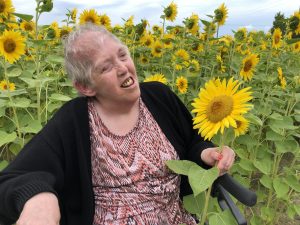 BRENDA JEAN PIERCE
On the last evening in September 2022 God took Brenda home. Her loving memory lives on through her parents Donald and Donna Pierce, her sisters and brothers-in-law Cheryl Cassin, Laurie & Mike McAndrew, Lisa & Steve Symons, her nieces and nephews J.J. Cassin, Mallory and Rob Medeiros, Jessica and Jamie Bere, Troy Symons, Christopher and Kathy Symons, Shauna Balger, Ashley and Tom Pye, and tail-wagging Guinness and Jagger.
Numerous are the lives she touched with her teasing manner, her incredible joy for life, and the remarkable comeback from so many health issues and surgeries.  She truly 'defied all odds' but this time her heart just couldn't keep beating. Peacefully she left us as the notes of 'Somewhere Over The Rainbow' played in her room. Her yellow brick road finally lead her Home…
We were truly blessed by having Brenda for 64 years.  They say it takes a special family to raise a child with special needs. Ours is but an ordinary family with an extraordinary God who gave US the gift of Brenda.
Family and friends will be received at STEADMAN BROTHERS FUNERAL CHAPELS, Brigden on Wednesday, October 5, 2022 from 5-7pm and face masks would be preferred.
We welcome all who loved her to join us in her Celebration of Life on Thursday, October 6, 2022 at 11:00am at the Brigden United Church with visitation 1 hour prior. Interment to follow at Bear Creek Cemetery.
The funeral service will be streamed live online by clicking the link: https://us06web.zoom.us/j/89559923739.
"…There will be no more death or mourning or crying or pain, for the old order of things has passed away…"  (Revelation 21: 4 b)
Those wishing to honour Brenda with a remembrance could do so with an act of kindness in your own community, or through donations to Lambton County Developmental Services (www.lcdspetrolia.ca) or Brigden United Church (e-transfer brigdenpc@gmail.com).