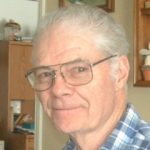 Piggott, Ross Vernon age 88, of Lambton Meadowview Villa, Petrolia formerly of Brigden, passed away peacefully surrounded by his loving family on Saturday June 4, 2016. Beloved husband of the late Mary Louise (Gadsby) 2005 Piggott. Loving father of Gary (Lori), their children Denika & Brigetta; son Grant (Dianne), their children Joelyn Herrington (Scott), Kimberly Hockey (Peter), their children Melody & Grant and Julie Childs (Tyler); daughter Connie Classen (Jeff), their children Bobbi Lee Fournie (Jeff), their children Kassidy & Robbie, Kristina Connors (Dean) their daughter Kadence Connors and Nicole Classen (Dino Pao); and son Bryan Piggott (Christine), their children Steven Piggott (Aleah), their children Emerson & Weston, Stefany McCallum (Nick), their children Finley & Colson and son Scott Piggott (Erin). Also survived by his brother Douglas Piggott (Pat), sisters-in-law Marion Piggott (Beverley), Joyce Piggott (Rae), Aldene (late Ken) Snider and Nancy Gadsby. Predeceased by his parents Clarence (1978) and Viola Harkins (1976) Piggott brothers Beverley (2005), Rae (2006) and infant sister Anne Marie (1935). Ross farmed his entire life in Enniskillen. His biggest joy was his family, farming and faith. Ross was a life member of Brigden United Church.
VISITATION
Family and friends will be received at STEADMAN BROTHERS FUNERAL HOME, BRIGDEN on Tuesday June 7, 2016 2-4 and 7-9pm.
FUNERAL SERVICE
Funeral service will be conducted from the funeral home on Wednesday June 8, 2016 at 11:00am with Rev Sandra Fogerty officiating.
INTERMENT
Interment at Bear Creek Cemetery.
DONATIONS
In lieu of flowers, sympathy may be expressed through donations to Canadian Food Grains Bank "Forget–me-not" Project c/o Brigden United Church, and Alzheimer's Society. A special thank you to all the staff at Lambton Meadowview Villa for their dedication and compassionate care our father received.