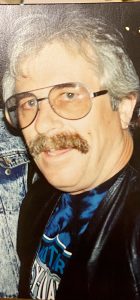 David had a lot of stories. Boy did he ever.
If he didn't have a story about a particular person, place or thing, you were immediately treated to an appropriate one-liner. The 74 years between his original haunts of Eastern Ontario's Glengarry County to his sudden passing at home in Brigden are oh, so many stories chock-full of travels and incredible experiences with the people he met, worked with and loved.  His endless accomplishments are impossible to list.  Penning a life timeline is an arduous task that only he could have done for us.  We haven't found that list yet, so we'll share with you the nitty gritty…
David Sangster lived by his own moral code. He was a generous, principled, fierce defender of the little guy and always honest.  He was righteous, fearless, complicated and stubborn.  He had enormous physical strength and an uncompromising work ethic.  David was a carpenter extraordinaire (Sarnia, Local 1256), leaving his mark across the province and beyond.  He was a perfectionist and a hard-ass to work for or, with.  He had the highest of expectations but was always fair.
David was passionate about his four-legged companions and machines with two wheels. He loved music – a wide variety. Trading jokes over the internet.  Figuring out cameras, phones and tech.  He took pride in his tools.  Discovering and building new gadgets that made life more efficient.  He found simple solace in lawn cutting; pampering his plants; reading dusters; watching over the field at wildlife and the neighbours practicing their motocross.
Gone before David were his siblings Barbara, Kevin and Wayne Sangster. His parents Neil and Jean Sangster (nee McEwen).  Still here are his brothers Barry, Robert, Andrew Sangster and their respective families.  Contributing to his legacy he leaves his offspring, Jared Burrows and Melissa Sangster (Ben Taylor).  His grandchildren, Ella and Maxwell Taylor.  And, not least, his wife of 45+ years, Linda Sangster (nee Watson) of the Sixth Line Clan.
We would like to thank Dr.'s Li and Lam (Petrolia); specialists, surgeons and health care professionals for the tune-ups, maintenance, customizing and repair jobs that his body needed over the years, because the non-stop testing of his body's limits was the only way David knew how to live.
As per David's wishes, cremation has taken place, and future arrangements are forthcoming.