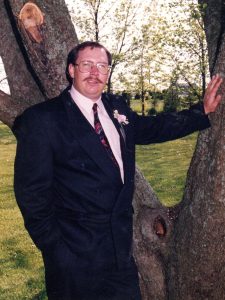 SHANNON, Sean Daniel Lawrence –
May 10, 1965 – September 3, 2022 in his 57th year. Loving husband to Debbie (Hiller) for 29 years. Loving father to Heather Shannon and Kathryn Black. Son of Madeleine Bewsky (Ross), son-in-law of Donna Hiller, stepson of Bridgette Shannon. Brother to Michelle Shannon (Jeff), Debbie Blue (Mark) and Christina Shannon. Brother-in-law to Dale Hiller (Kelly), Ross Hiller (Shawnee). Special uncle to Brittany Westlake, Mackenzie Lumley, Alyssa Hiller and Luke Lumley. Predeceased by his father Lawrence Shannon and father-in-law Roger Hiller. Sean will be missed by his boss Mark (Tracy) Christopher, aunt, uncles and so, so many friends.
Sean was a volunteer fireman for St. Clair Township, Brigden Station for 15 years and a past member of the Royal Canadian Legion Branch #635 Brigden.  To all who knew Sean, he was never "at a loss" for words. He would sit for hours and tell you stories of his time in N.W.T., his shenanigans as a teen, his tours with friends, or the forever famous "our nations capitol". He would strike up a conversation with anyone, remember your face but maybe not your name. He was funny, witty, and fast with his one-liners. Sean was a prankster at heart and anyone who "misplaced" their vehicle would know this. He loved making people laugh but was the slowest card/games player around. He has surely left a lasting impression on everyone he has met and the ones he calls friends and family.
In lieu of flowers, donations can be made to Canadian Mental Health Association (www.lambtonkent.cmha.ca) or Canadian Cancer Society (www.cancer.ca). As per Sean's wishes, his body has been donated to science.
"A Shithead through and through"