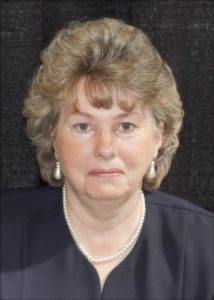 WALTERS, Patsy Dell (nee Strangway) – Was welcomed home by her savior on Sunday, November 25, 2018 at the age of 69. She was born to Arley and Marie Strangway. She leaves behind sisters Julie and Bonnie. Patsy taught school at Confederation Central School and Temple Baptist Christian Academy. She was married to Ron Walters for 49 years. They were blessed with two children, Wesley and Lauren. She has a special place in her heart for her 3 grandchildren, Rhydian, Liam and Rosalie, along with her daughter-in-law Riva. Patsy lived a life of simple pleasures. Her family will greatly miss her but takes comfort in the knowledge that Jesus is holding her in His Arms.
GRAVESIDE SERVICE
Her family and friends are asked to join us at Wyoming Cemetery on Friday, November 30, 2018 at 11:00am for a graveside service.
RECEPTION
There will be light refreshments at Wyoming Baptist Church following the interment.
DONATIONS
Expressions of sympathy can be made to Far East Broadcasting Canada (www.febccanada.com).