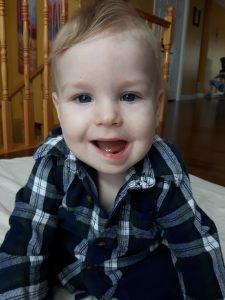 WARK, Ethan Alexander Edward – The family of Ethan ("little e") sadly announce his sudden passing on Monday, April 9th, 2018 at the age of 10 months at Bluewater Health, Sarnia. Beloved son of Derek Wark and Lindsay Irwin of Petrolia. Adored Grandson of Lloyd and Nadine Wark of Sarnia and Brian and Pam Irwin of Brigden, and Great Grandson of Audrey Wark of Sarnia. Also surviving are Uncle Leigh and Aunt Becki Irwin of Brigden along with cousins Abbey, Drew, Halle and Charlotte Irwin of Brigden. Missed sadly by Great Uncle Gary and Great Aunt Bev Brougham of Onaway, Michigan, Great Uncle Tom and Great Aunt Brenda Rumbold of Brigden, Great Uncle Steve Rumbold of Brigden, Great Uncle Tom and Great Aunt Adrienne Hughes of Corunna, Great Uncle Jim and Great Aunt Theresa Wark of Sarnia along with cousins Leslie Wark-Ferrerra of Sarnia, John and Tracy Penfold of Mississauga and Jamie (late) and Aldona Wark of Sarnia. Great Uncle Steve and Great Aunt Lisa Cook of Sarnia along with cousins Aaron and Sarah Cook of Sarnia as well as many other family. No words can describe our grief. Ethan was a beautiful, happy, joyous baby who, in his short 10 months left his mark on everyone, sharing his smiles and loving personality. He loved his toys, books and soft "blankies" as well as his two pet dogs – Sophie and Maggie who were his close buddies. Ethan was a very intelligent boy who was very curious about the world around him. As much as it hurts us to lose our wonderful son, we treasure the time we had with him and cherish the memories which will outweigh the grief over time. Ethan is now safely in the arms of Jesus.
Funeral Details
Family and friends will be received at Steadman Brothers Funeral Home, Brigden on Thursday, April 12, 2018 from 11:30 am until service time at 1:00 pm followed by burial at Black Creek Cemetery.
Donations – Cheques only please
Ronald McDonald House, London, Sarnia and District Humane Society and Pathways Health Center for Children
"Let the little children come to me and do not hinder them, for the kingdom of God belongs to such as these. I tell you the truth, anyone who will not receive the kingdom of God like a little child will never enter it." (Words of Jesus, The Bible, NIV version – Mathew 19:14).